Five minutes with our Master Roaster: Carlos, the Storyteller
Join us as we talk to Carlos: One of our Master Roasters, and a keen storyteller.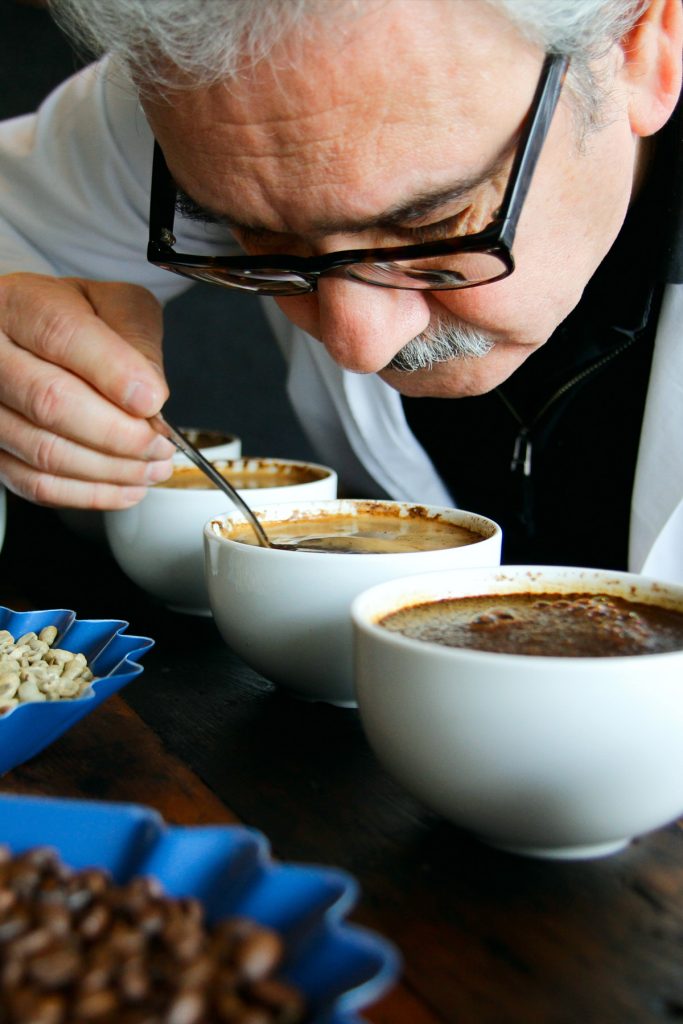 Carlos is our Production Manager, responsible for production in its entirety. A perfectionist, he ensures that the coffee beans reach us in the right form and manner, and that they meticulously adhere to an extensive checklist all the way through to dispatch. He used to joke that he was so thorough he might find a diamond in a bag of beans and, one day, he did just that!  But that's a story for another time. What you really need to know is that this man knows everything about coffee, from A-Z.
CARLOS, HOW DID YOU GET INTO WORKING WITH COFFEE?
Coffee has always been a part of my lifestyle but it wasn't something I had considered as a career. When I first came to this country, I went into catering and onto the front line of coffee, in a shop, but it was production that enticed me; wondering where it came from, how was it made? The curiosity pulled me in and I've been working this side now for 25 years.
Coming here every day is a boost, I really enjoy it, the way it smells, our roasting rituals – it just continues to fascinate me.
There's something else about coffee and my past, too. Many years ago, I was in the Portuguese army, in Angola, in Africa. I was sent into the bush to massive forests, with a job to protect the soldiers and (you might have guessed) coffee; it was a coffee region.
When I came into the industry years later I remember thinking to myself "Coffee again, my word." I'd never have thought those 40 years before that I might be here. Was it meant to be? Who knows, but coffee had found me again and I'm glad it did.
WHEN DID YOU FIRST BECOME INTERESTED IN COFFEE?
That's a funny question because since I remember existing, I've always liked and drank coffee. All the adults were always drinking coffee and I wanted to, too. To keep me happy they'd add just a little espresso to milk, really only a touch, so I thought I was drinking coffee just like them. I'd proudly have it every morning with my breakfast.
WHAT MOST FASCINATES YOU ABOUT COFFEE?
The complexity of it and the beauty of all its components: aroma, flavour, body – and the fact that we can play with it. We play with the coffee, it's so versatile, adding more acidity, a better aroma – whatever we like. It's really nice to work with. It always wows us.
WHAT MAKES YOU PROUD OF YOUR ROLE?
There are so many different aspects to manage, from quality control to roasting and instilling in the staff I train the same pride that I have in my work. More than anything, I want to make sure that everyone is confident and happy. This is like a small family; we spend most of our day here, so it's important to me that we strike a balance between being efficient and being a pleasure to work with.
TELL US ABOUT THE ROASTERY
It's so important that we have our own Roastery. To make great coffee is a great responsibility and so it's really important that we man it ourselves, with full control over the whole process, to ensure that we can really say "This is ours". That's what the customer expects from us: our coffee, every time.
I would say that our blend is unique, it's our best, and it's our baby; something we are really very proud of. It starts at the Roastery but, really, our coffee is an experience shared throughout the company.
YOU SAID THE BLEND IS UNIQUE. HOW SO?
It's unique because it's a blend that we've had for many, many years, since the day Gerry Ford started the company. We've preserved it to be like that and we don't share it with anyone else, working hard to enhance and better it all the time.
HOW MANY PEOPLE KNOW THE EXACT PROPERTIES OF OUR BLEND?
Not many people: Gaetano, myself, Giacamo, Giuseppe, and Marco – we're the people that actually work directly with it, nobody else.  Except, of course, Gerry, our founder.
HOW DO YOU TAKE YOUR COFFEE?
In the form of espresso – that's my favourite. I can drink three, four, five, six espressos in a day, it makes no difference, I enjoy them all the same – I enjoy the last one as I enjoy the first.
Coffee means practically everything to me. I drink it in the morning, as a pick-me up. I drink it throughout the day. I even drink it at night before I go to bed. It's my favourite drink so, I mean, there's not really much to say. You know, I like it, and that's that.