Coffee, Fig and Nut Biscotti
These double-baked crisp biscuits are packed with dried fruit and nuts. Best enjoyed with a cup of strong coffee or dipped in some vanilla ice cream for a sweet treat.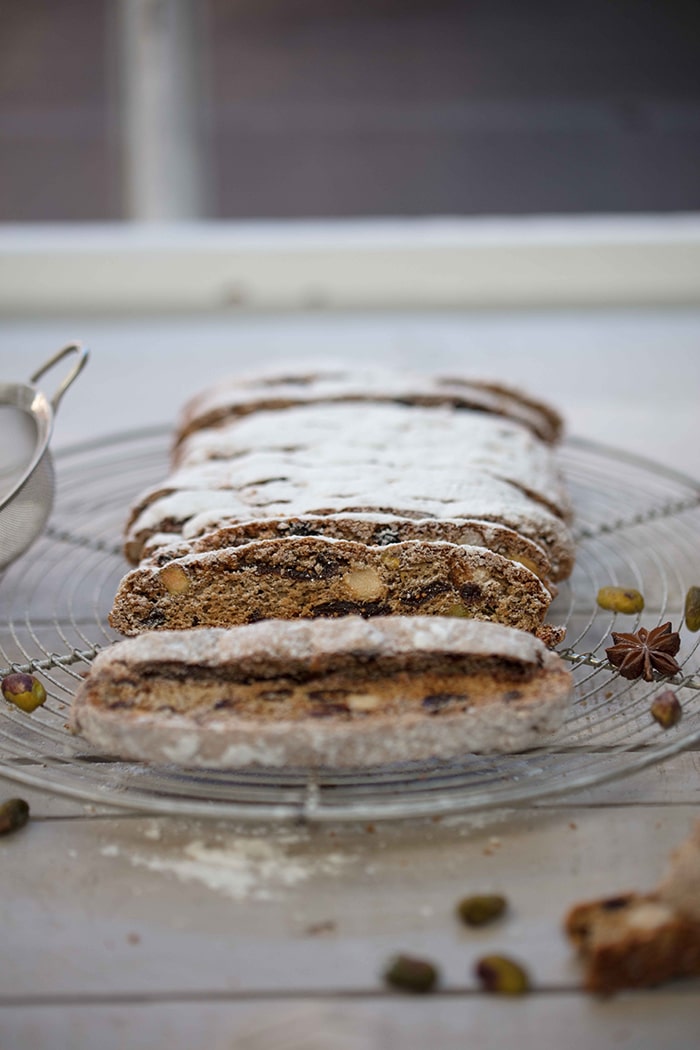 Prep time: about 30 minutes
Cooking time: about 50 minutes
Serves: 28
Ingredients:
200g '00' flour
1½ tsp baking powder
80g golden caster sugar
30g shelled pistachio nuts
30g shelled hazelnuts
30g sultanas
40g dried figs, quartered
Freshly grated zest of 1 small unwaxed lemon
2 large eggs, lightly beaten
What you'll need:
Mixing bowl
Baking tray
Serrated knife
Airtight container
Step one:
Preheat the oven to 150°C.
Step two:
Sift the flour and baking powder into a mixing bowl.  Stir in the sugar, pistachio nuts, hazelnuts, sultanas, figs, lemon zest and coffee.
Step three:
Pour in the eggs and mix well until you get a dough-like mixture.  Bring the dough together into a ball in your hands and transfer it to the prepared baking tray.
Step four:
Flour your hands and roll the dough into a log (you can use the greaseproof paper to help you roll the dough).  Flatten it slightly so that it is about 8cm wide.
Step five:
Bake in the preheated oven for about 30 minutes.  To check if it's ready, press very lightly on top of the log and if it springs back you can take it out of the oven.  If it still feels very firm, leave it in the oven for a few more minutes.  When it is ready, remove from the oven to cool for about 10 minutes.
Step six:
Using a large, serrated bread knife, slice the log into 5mm slices.  Lay the slices on the baking tray and return to the hot oven for 10 minutes, turning them halfway through cooking.  When they are pale gold, remove from the oven and leave to cool for a few minutes. Store in an airtight container for up to 2 weeks.