Coffee and Hazelnut Macaroons
This dairy and gluten-free biscuit that's crunchy on the outside, chewy in the middle, and very, very nutty.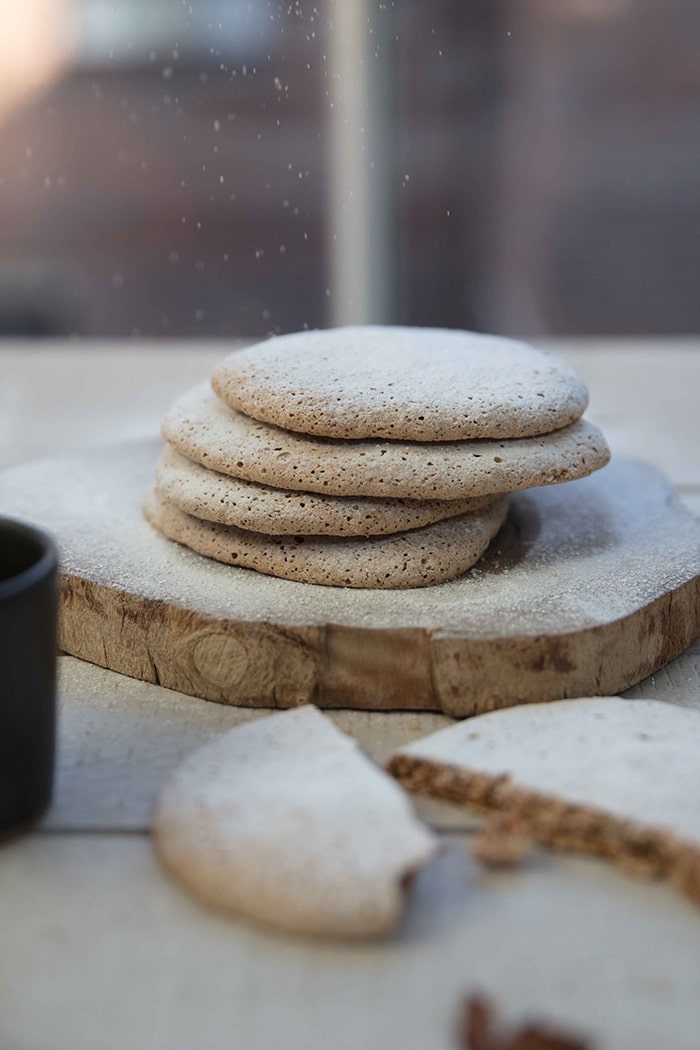 Prep time: About 50 minutes
Cooking time: 25 minutes
Serves: 20
Ingredients:
170g blanched hazelnuts
2 egg whites
170g golden caster sugar
40g rice flour (or ground almonds)
A few drops of vanilla extract
What you'll need:
Heatproof bowl
Saucepan
Whisk
Stirring spoon
Tablespoon
Brownie tin
Sieve
Step one:
Preheat the oven to 130°C.
Step two:
Put the hazelnuts on a baking tray and roast in the preheated oven for about 15 minutes, or until very pale gold. Grind them finely in a spice grinder or food processor, leaving a few chunkier pieces.
Step three:
In a mixing bowl, mix the egg whites and sugar just to combine, then add the ground hazelnuts, rice flour, coffee and vanilla. Cover with clingfilm and refrigerate for 20 minutes.
Step four:
Take the mixture out of the fridge and stir through with a spoon. Take a generous teaspoon of the dough and place on the prepared baking tray. Flatten it slightly, then repeat this process with the remaining dough, spacing the dough balls slightly apart as they may spread when they are baking.
Step five:
Bake in the preheated oven for about 25 minutes, or until the macaroons are very pale gold. They should still be slightly soft in the middle. Remove from the oven and leave to cool for a few minutes. Store in an airtight container for up to 1 week. Dust with icing sugar before serving.