Emily Baker | Artist of the Month | March
Australian singer-songwriter, musician and composer, Emily Barker, is our Artist of the Month.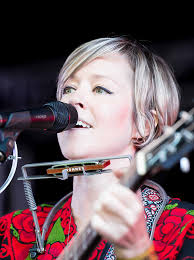 Out Artist of the Month is more than just a singer and songwriter. Emily Baker and her 'research assistant', a small black cat called Brain, are exploring issues and attitudes towards age and ageing processes, theories around gender and how these are evidenced in vocal performances in pop music.
While Emily's a registered student at the University of Liverpool studying her Music PhD, we suspect Brian is merely there for moral support. Still, an important role. Particularly when Emily is doing more than building her reputation within academia.
Awarded the fellowship from the Arts Foundation for songwriting in 2009, Emily has since made two albums, toured in the UK, the US and Europe. Her raw, honest vocals over the sound of her acoustic guitar make for a charming sound not too dissimilar from Australian singer-songwriter Missy Higgins.
In her last released album All At Sea, Emily sings and strums about fragile lives and loves with the directness of a stripped back Grammy Award winning rock singer-songwriter, Aimee Mann.
Read more about Emily Baker or our other Artists of the Month.