CHOCOLATE COFFEE MERINGUE ROULADE
Our Chocolate Coffee Meringue Roulade recipe by chef Ursula Ferrigno is a festive favourite with rich chocolate flavours and a smooth coffee taste.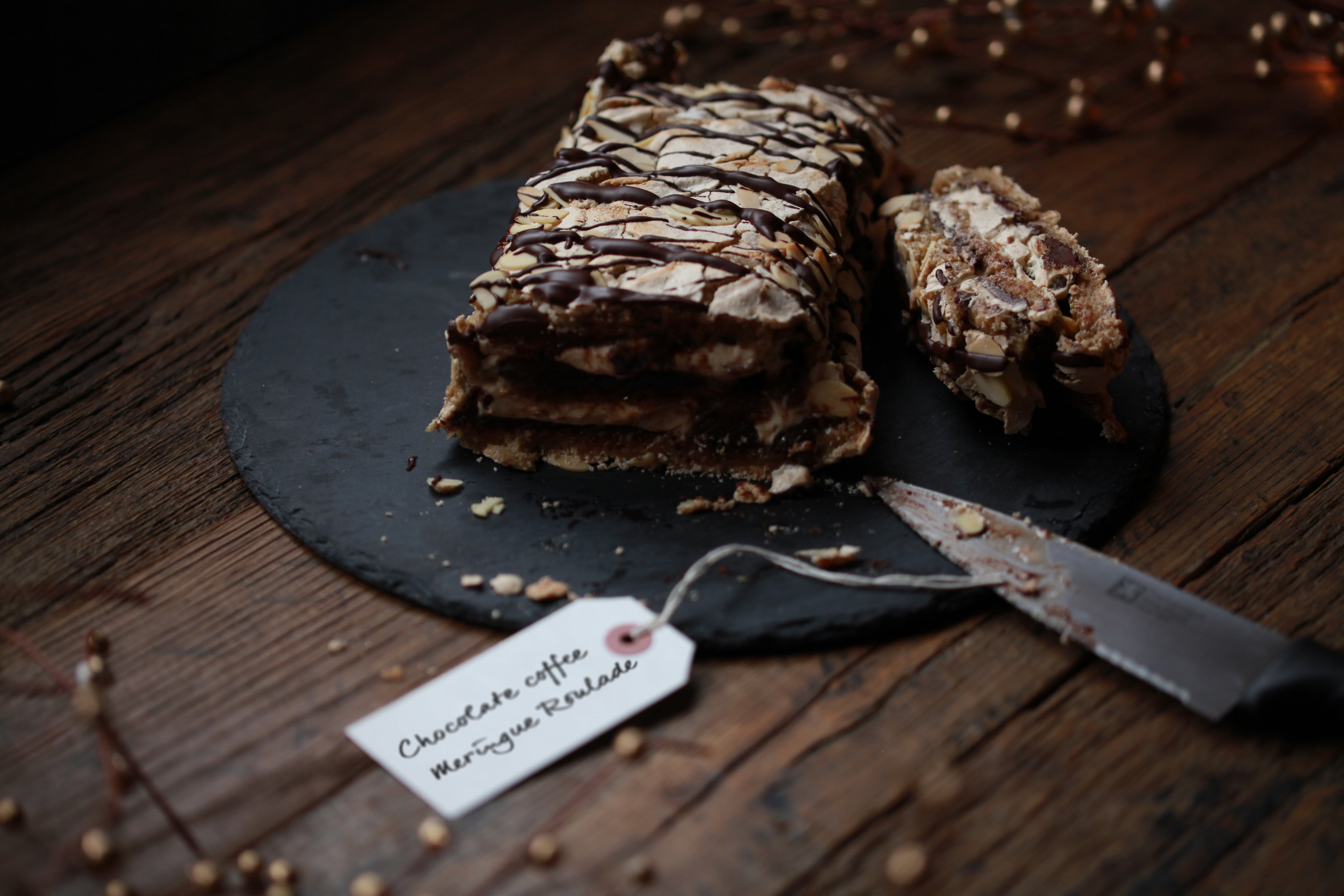 Prep time: about 1 hour
Cooking time: about 30 minutes
Cooling time: 3 hours
Serves: 8-10
Ingredients:
CHOCOLATE SPREAD:
200g dark chocolate (70% cocoa solids), chopped into chunks
50g salted butter
120ml double cream
½ tsp sea salt flakes
CREAM FILLING:
200ml double cream
40g icing sugar
1 tsp espresso coffee powder, dissolved in 1 tsp boiling water
What you'll need:
lipped Swiss roll tin or baking tray
Large mixing bowl
Electric mixer
Tablespoon
Teaspoon
Baking paper
Wire rack for cooling
Heatproof bowl
Pot
Step one:
Heat the oven to 200°C. Line a 23cm x 33cm lipped swiss roll tin or baking tray with baking paper, then lightly oil the paper.
Step two:
In a large clean bowl, whisk the egg whites with an electric mixer until thick, glossy and holding medium peaks. On a low speed, whisk in the sugar, a little at a time, then add the flour, ground almonds and coffee until just combined.
Step three:
Spread the meringue evenly into the tin, scatter over the flaked almonds, then bake for 8 minutes. Lower the oven temperature to 160°C and cook for a further 20-25 minutes.  Lift the meringue from the tin on its paper and cool for 10 minutes on a wire rack, then invert onto another piece of baking paper to cool completely.
Step four:
Meanwhile, make the chocolate spread: melt the chocolate in a heatproof bowl over a pan of simmering water (don?t let the water touch the bowl). When melted, add the butter and stir gently, then leave to cool for 15 minutes.  Add the cream gradually, beating between additions with a balloon whisk, then add the salt.  Spread evenly over the cooled meringue, then chill the whole dessert for 15 minutes.
Step five:
For the cream filling, put the cream, icing sugar and coffee in a clean mixing bowl. Whisk with an electric mixer until it starts to thicken.  Continue in bursts until you get soft peaks (that fall over).
Step six:
Spread the cream on top of the chocolate spread. Starting with a short edge, carefully roll up the meringue, using the baking paper to help.  Wrap the paper tightly around and chill for at least 3 hours.  To serve, put on a plate, drizzles with melted chocolate and slice