Caffè Nero Gender Pay Key Facts
About Caffè Nero
Caffè Nero Group Ltd is the largest independent European coffee house group and one of the world's leading coffee brands.
We have over 680 stores in the UK, including 38 Harris + Hoole stores and as required we have submitted gender pay data relating to our store teams as well as our employees working in our head office.
Our Approach to Equality
Our value system is at the core of our business and embraces the values of fairness, decency, warmth, kindness and the pursuit of excellence.
As such, we have always strived to build an inclusive culture among our employees across gender, ethnicity, race, religion, age, sexual orientation and professional background.
We currently employ more women than men within the business and are committed to ensuring that women and men are given equal opportunities to reflect their skills and abilities when it comes to pay, recruitment and development.
Our Approach to Pay
We pay all our employees according to their job role and review salaries annually in view of business and individual performance.   Salaries are determined by bench-marketing roles against similar positions at comparable organisations.
In 2016 we introduced a robust pay grading system in our stores which we believe ensures fair and consistent approach to pay, regardless of gender.
What is the 'Gender Pay Gap'?  
The gender pay gap is the difference in average pay between men and woman across an organisation, regardless of their role. Discrepancy in pay between men and women may be for a variety of reasons including the number of women and men in each role or the number of men and women across the business.
Gender Pay reporting applies to all UK companies with over 250 employees. It involves ranking employees by their average hourly pay and then splitting them into four equal quartiles – Lower, Lower Middle, Upper Middle and Upper.
Our Results
Our 2017-2018 gender pay gap data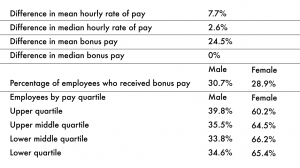 Explaining our Results
We are pleased to report that our results are above average for our industry.
The gap is measured by comparing the overall female population of the business with the overall male population, rather than looking at like-for-like roles. In our case, this entails comparing a larger group of female employees (64%) with a smaller group of male employees (36%).
Whilst we are unlikely to achieve absolute gender balance across all roles in the organisation because of our workplace composition, we will continue to apply a fair and equitable approach pay, regardless of gender.
The results for the Lower, Lower Middle and Upper Middle quartiles are representative of store-based employees. Additionally while all roles are open to male and female applicants we see a significantly more females applying to work in stores across the lower three. The upper pay quartile has a slightly higher proportion of men, which explains the slightly higher pay gap.
Our Bonus Explained
Bonus is applicable only within the Upper quartile and is calculated based on a combination of business and individual performance. The reported difference in mean bonus pay between men and women is -24.5 per cent, with 28.9 percent of women and 30.7% of men receiving a bonus. Bonuses are performance related, and are applicable to roles within head office and regional and store managers.   There are currently more men in these roles than women.
Conclusion
Gerry Ford, Chairman and Founder of Caffè Nero comments:
"We are extremely proud of the inclusive and open culture we have at Caffè Nero. We have always believed in hiring diverse and talented people who share our values of fairness,decency, warmth, kindness and the pursuit of excellence. We are fully committed to equality and believe that all individuals, regardless of gender, can build a successful career here."